PROTEINDEX™ IEX-SP Agarose 6 Fast Flow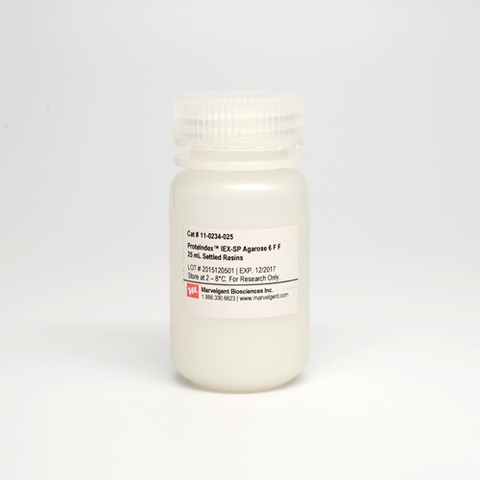 Catalog NO.
IEX resins are the most used techniques for purification of proteins, peptides, and other charged biomolecules, offering high resolution and group separations with high loading capacity. ... Read more
Description
PROTEINDEX™ Ion Exchange Media CM, SP, DEAE, Q Agarose 6FF are specifically developed for high-resolution separation of proteins, peptides, nucleic acids and other charged biomolecules according to their difference in surface charge. The base matrix of PROTEINDEX™ IEX-CM, IEX-SP, IEX-DEAE, IEX-Q is highly cross-linked 6% agarose, providing excellent chemical and physical stability.
The type of charged group determines the type and strength of the exchanger, while the total number and availability of the charged groups determine the capacity. Sulfonic and quaternary amines form strong ion exchangers, which are completely ionized over a broad pH range. Others form weak ion exchangers, where the degree of dissociation, and thus the exchange capacity, varies markedly with pH. "Strong" and "weak" refer to the extent of ionization with pH, and not to the strength of binding.
Marvelgent ion exchanger media are optimized for high sample loading capacity with reliable, reproducible performance, suited for process scale chromatography. View all IEX media.
Product Details
| | |
| --- | --- |
| Ion exchange type | Strong cation |
| Total ionic capacity | 0.18 – 0.25 mmol H+/mL medium |
| Matrix | Highly cross-linked 6% agarose supplied as a 50% slurry |
| Particle size | 45 μm - 165 μm |
| Flow rate | 400-700 cm/h |
| pH stability | pH 4 - 13 |
| Storage temperature | 2 - 30°C |
| Storage buffer | 20% ethanol, 0.2 M Sodium acetate |
Product is shipped at ambient temperature. Upon receipt store at 2 - 8°C. Do not Freeze.
Documents
Product Information Sheet
🗎   ProteIndex™ IEX-CM, IEX-SP, IEX-DEAE, IEX-Q Agarose 6 Fast Flow
Contact Us