PROTEINDEX™ Alkali-Tolerant Protein A Plus Agarose Resin, High Capacity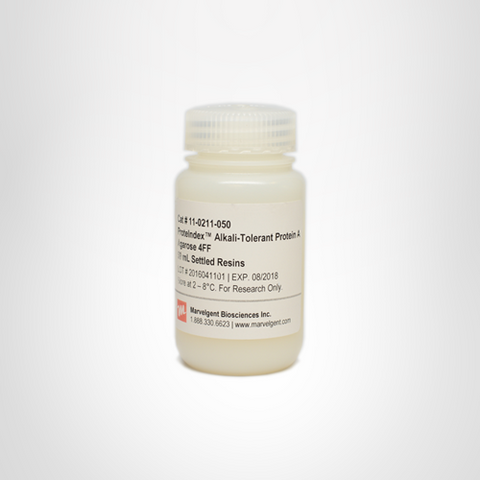 Catalog NO.
Greater capacity ~60 mg hIgG/mL resin, low leakage. High stability with same performance after 200 CIP cycles with 0.1 M NaOH. ... Read more
Description
PROTEINDEX™ rProtein A Plus resin is an agarose-based, proprietary affinity chromatography medium designed for easy, one-step purification of immunoglobulins, notably monoclonal antibodies.

Alkali-tolerant protein A is engineered by gene recombination technology on the base of native protein A.  The Alkali-Tolerant Protein A Plus resin retains ≥95% capacity after 200 times repeated clean-in-place (CIP) cycles with 0.1M NaOH, and approximately 80% of the initial capacity with 0.5M NaOH after 100 times repeated CIP cycles. Alkali-Tolerant Protein A is immobilized onto the resin with an orientation that is optimal for immunoglobulin binding. The level of leakage of the ligand during elution is very low.
The resin is highly cross-linked agarose based resin. The bead size is smaller and is optimized for higher binding capacity. The matrix is more rigid and offers higher mechanical stability for faster flow rates between 50 - 500 cm/hour.
Product Details
Ligand
Recombinant alkali-tolerant protein A produced in E.coli
Binding capacity
>60 mg human IgG/mL medium
Matrix
Highly cross-linked agarose based resin, supplied as a 50% slurry
Particle size
85 μm

Maximum pressure

0.3 MPa (3 bar)
Recommended flow rate
100 - 500 cm/hour
Chemical stability
All commonly used aqueous buffers and reagents in the process of antibody purification, including 6 M guanidine-HCl and 8 M urea.
pH Stability

Long term: pH 3 - 12

Short term: pH 2 - 14

Cleaning-in-place (CIP)

0.1 M ~ 0.5 M NaOH
Storage temperature

2 - 8°C
Storage buffer

20% ethanol
Product is shipped at ambient temperature. Upon receipt store at 2 - 8°C. Do not Freeze.
Documents
Technical Note
🗎    Comparison of Binding Characteristics of Immunoglobulin-Binding Proteins
Contact Us